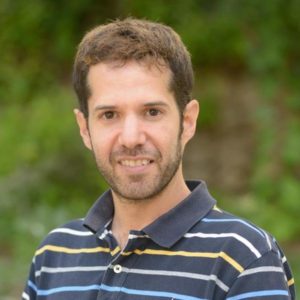 Meet the Newest Staff Member at the Albright: Aaron Greener
The W.F. Albright Institute of Archaeological Research is pleased to announce the newest addition to our staff, Aaron Greener. Aaron is joining us as the Program and Office Manager and will develop, coordinate, and produce our annual program of field trips, workshops, lectures, and special events at the Albright. He will also be responsible for our Destination Albright events for groups holding special lectures, dinners, tours, and receptions on premises, and for our Archaeological Services, which include rental of storage, labs, and equipment.
While Aaron is new to our staff, he has been a part of the Albright community for several years. He has held fellowships at the Albright, including a U.S. State Department Educational and Cultural Affairs Fellowship in 2015. He was also the Ernest S. Frerichs Fellow and Program Coordinator for the 2015-2016 academic year, and a 2017-2018 Albright Associate Postdoctoral Fellow. Since 2016 he has been a postdoctoral fellow at the Laboratory for Ground Stone Tools Research at the Zinman Institute of Archaeology at the University of Haifa. His research focuses on the study of ground stone tools at Bronze and Iron Age sites, among them the copper production sites in the Timna Valley and at Tel Megiddo East. Aaron completed his Ph.D. at the Land of Israel Studies and Archaeology Department at Bar-Ilan University about imported pottery during the Late Bronze Age. During his studies, he spent a year as an associate member at the American School of Classical Studies at Athens. He has participated in and staffed many excavations in Israel including at Tel 'Eton and the Timna Valley. He is also involved in educational archaeology endeavors for children and popular audiences (www.digthepast.org).