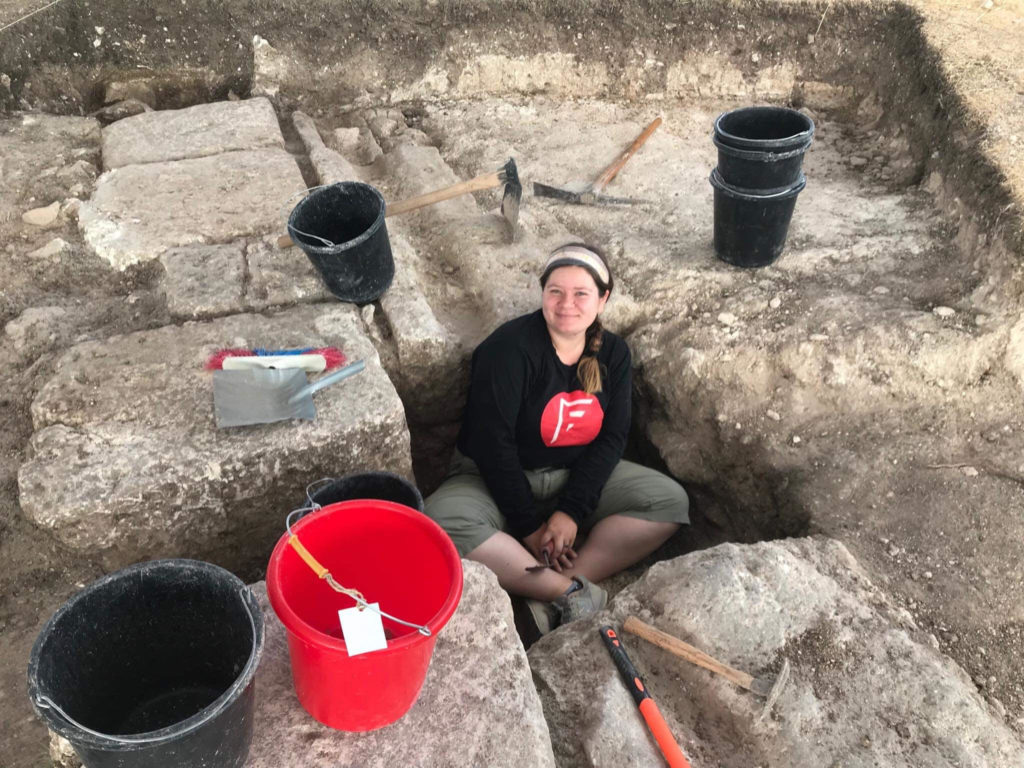 Sept 1, 2019
Each summer, the Biblical Archaeology Society of Northern Virginia (BASONOVA) and the Biblical Archaeology Forum (BAF) sponsor students to excavate at sites in Israel. One of those sites this summer was Legio, under excavation by the Jezreel Valley Regional Project (JVRP).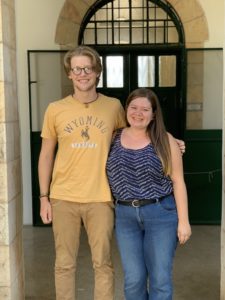 We sat down with Gavin Heady and Victoria Mardovich, both selected for this summer's BASONOVA/BAF-funded JVRP-AIAR Summer Internship. For both Gavin, a senior at University of Wyoming, and Victoria, a senior at Southeastern University in Florida, it was their first time excavating, which meant they needed to shed many of their expectations. "I think I was misled by the media that it would be all meticulous work with a toothbrush. It was difficult…I knew I'd be moving a lot of dirt, but I haven't physically exerted myself that much since high school sports."
But the rush of finding things made the toughness worth it. "Once we started hitting things like walls and got a semblance of something there, it was a huge lifting of worry," Gavin said. Victoria was helping out in Area C and found a stamped roof tile, staring at it in her hands. "Everyone was so busy…I said 'um, guys? I think we found something," Victoria recalled. "Everyone stopped working and came over right away!"
"Now I think I want to try to add a minor in archaeology," Victoria said, to her BA in History. Gavin is triple majoring in Anthropology, Religious Studies, and English, and found that archaeology complemented his studies well, citing global travel and immersion in another culture, especially at the Albright, located in East Jerusalem, where the duo spent another four weeks interning after the month at the excavation.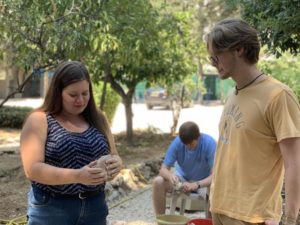 "I'm in awe of this institution and how long it's been here…I need to be at this place and be a part of it," Victoria said, describing her impression of the Albright. Gavin said that the time at the Albright "took away the curtain" of archaeology, and laid bare what happens after an excavation: processing finds, cleaning them, photographing them, calling in experts to analyze them. "I really appreciate the build-up of knowledge that takes years and years."
Matthew Adams, director of the Albright and co-director of JVRP, had much praise for the two: "Between the excavation and the internship at the Albright, I spent two months with Victoria and Gavin who were fantastic additions to the excavation team. Both had no prior experience, but were pros in no time. At the Albright, they helped with all sorts of tasks, from wrapping up some of the final excavation documentation, data entry for the Levantine Ceramics Project, digitizing the institute's archives, and updating our library journal audit. All of our interns this year have amazing work ethic and I'm really proud to have worked with them."
Both Gavin and Victoria were skeptical that the internship could be as good as it sounded. Victoria thought it might be "too good to be true," and Gavin agreed, saying he had thought "to be able to come here for the summer–there must be one caveat." Both were delighted to understand that the opportunity, made possible by BASONOVA and BAF, was as good as it seemed.
BASONOVA invests in the future of biblical archaeology by funding scholarships for students to participate in overseas excavations.